One of China's top influencers, Huang Wei, who is also known as Viya, has been fined RMB 1.34 billion (USD 210 million) by Chinese authorities for tax evasion. The financial penalty is the latest move by regulators to crack down on the country's livestreaming sector, which has opened fresh sales channels for e-commerce companies like Alibaba.
Viya is one of the most popular livestreamers on Taobao. As China's "livestream queen," Viya has a track record of selling products that run the gamut. In 2020, she racked up more than RMB 31 billion (USD 4.86 billion) in sales, according to 36Kr. This included a private rocket launch that carried a price tag of RMB 40 million (USD 5.6 million).
The expert livestreamer was caught evading personal income tax to the tune of RMB 700 million (USD 110 million) from 2019 to 2020 by declaring personal wages as corporate income, concealing commission fees, and failing to declare other sources of income, the taxation authority of Hangzhou municipality said in a statement on Monday.
On Monday, Viya took to Weibo to issue a public apology and pledge to pay the RMB 1.34 billion in penalties. At the moment, her Taobao, Douyin, and Weibo accounts have been disabled, and her planned appearances have been cancelled.
Viya's predicament may lead to outsized impact on the business of Taobao, where the livestream queen has consistently generated viewership and whipped up sales. By adopting a personally engaging persona, Viya has amassed a following of nearly 100 million on Taobao Live, the marketplace's streaming channel. For the past five years, Taobao has featured her in high-stakes streams that moved merchandise at a brisk pace.
As consumer habits and expectations shift, particularly in the context of short video entertainment becoming ubiquitous, Taobao has become dependent on its top livestreamers, including Viya and "lipstick king" Austin Li Jiaqi, who earned his moniker by testing cosmetics on himself during his streams. On the first day of the Singles' Day shopping festival in November, Li and Viya reported a combined gross sales volume of RMB 19 billion (USD 2.98 billion) as the unmatched leaders in this space.
During the sales bonanza, the third most active livestream seller on Taobao Live was Zhu Chenhui, who is known as Cherie and was fined RMB 65.5 million (USD 10 million) in November for tax evasion as well. Last month, Cherie grossed RMB 930 million (USD 146 million) for the marketplace, a small fraction of Li and Viya's run.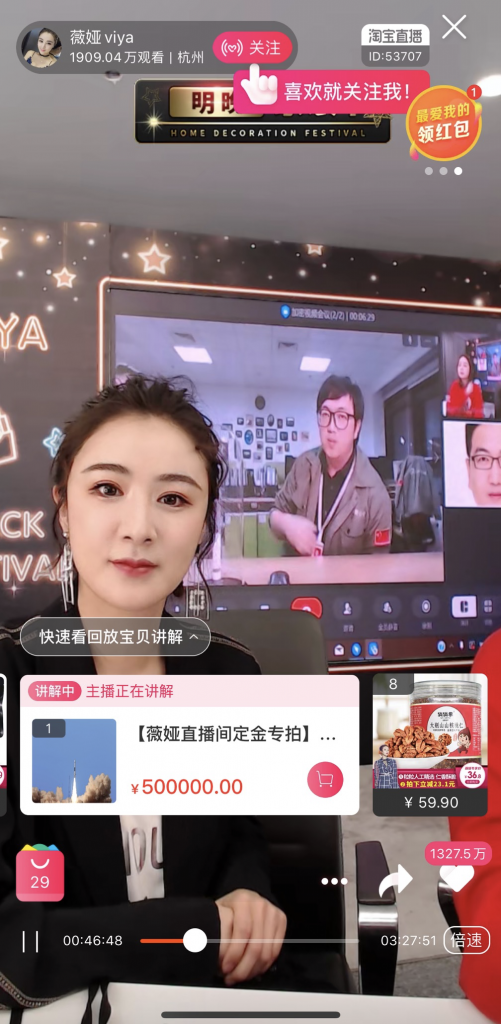 Lin Shanshan, another popular livestream personality, was fined RMB 27.7 million (USD 4.34 million) at the same time as Cherie, also for unpaid taxes.
Consulting firm KPMG estimated that China's livestream e-commerce industry was worth around RMB 1 trillion (USD 156.9 billion) in 2020. Alibaba's Taobao Live accounted for roughly half of the market, while rivals such as JD.com as well as short video sharing platforms Kuaishou and Douyin are investing heavily to secure their corners of this market.
Months earlier, the Chinese government had signaled its intention to rein in influential livestreamers and moderate their content. In September, the tax authority announced two high-profile livestreamers were being probed for possible tax fraud, but did not reveal their identities.
Soon after that, the national broadcasting regulator published a lengthy set of guidelines, and said it would tighten rules for livestreaming.
The series of hefty fines has triggered alarm among China's professional streamers, particularly those who operate on behalf of e-commerce platforms or consumer brands. Thousands of streamers have volunteered as subjects of tax investigations, and indicated they would repay all taxes that they owe, according to Xinhua. Regulators said those who "voluntarily rectify" taxation issues will receive small fines, possibly none at all.
At the moment, China does not have an established accounting protocol for the livestreaming industry. Livestreaming involves multiple revenue sources, such as commission from sales, client fees, and tips from viewers. The current tax code does not define ways to classify and process these income sources for taxation purposes.
China's top tax supervisor said on Monday it has requested local government officials to conduct investigations and root out all the tax fraud related to livestreaming revenue. It also called for tighter scrutiny of the industry.